It's risky to launch a product to an untried market. Especially if you've invested blood, sweat and tears into something that you're not sure will sell.
How would it feel to confidently create and launch your big idea only once the demand for it - or an aspect of it - is proven - so you can confidently move forward? Let your target market confirm you're on the right track and gain extra clarity from their valuable feedback, so you can focus your attention on the places which matter, to bring you the best results.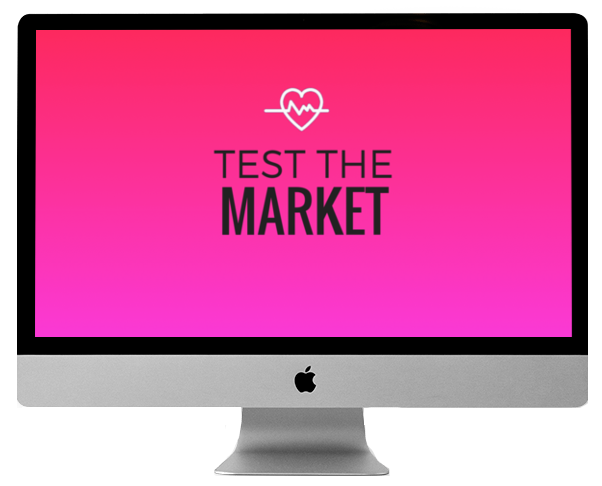 This 14 day online course will spare you from charging ahead, risking your valuable time and money and potentially jeopardising your big idea. Action the 9 step process which includes easy-to-use templates and scripts and you'll be in a stronger position to create and develop your bigger, improved offer.
Why waste your time creating something if you don't know it will sell?

We'll go step-by-step so you know exactly how to decide and create your test piece, get clear on your message, the logistics of how to quickly and easily deliver and sell your test piece, track and measure your promotions and advertising, ultimately leading you to evaluate your success.
Action the 9 step process and at the end of the 14 days you could have valuable feedback and campaign statistics from your target market, glowing testimonials, a bank of starter promotional materials to use in your launch and a test piece you could subsequently use as a bonus, lead magnet or starter offer (to upsell from).
You'll also gain the solid "Test the Market" process you can apply time and again whenever you need to test out an idea on your chosen marketplace.
In a nutshell, you'll have access to my 9 step proven process, templates and scripts so you can quickly and easily test the market with your idea, for under $100 USD within 14 days.
If you're serious about sharing your big idea with the world then let's get started!
In 14 days you will know if your idea is worth it.
Your market is waiting.
As soon as Test the Market reopens you'll get immediate access to the complete course and three bonuses.
You get:
Test the Market - A 9 step proven process (complete with templates and scripts) to test your idea on your chosen market for under $100 USD within 14 days whilst potentially creating a list of buyers waiting for you to launch.
Bonus #1 Access to the private Facebook community
Bonus #2 Jargon buster
Bonus #3 Resource Guide