Who wants to feel overwhelmed. Creating your idea is meant to be an enjoyable process, bringing something to life in the richest way possible. But it's easy to get bogged down in the to-do lists and overrun with the practicalities and miss out on the big insights which will make all the difference to a success or fail.
That's why Just One Idea Today is here.
A set of purposeful questions to draw out deeper insights in the development of your idea.
Without overwhelm or struggle.
You'll get five different questions at a time, which you can answer in your own time over 20 days or 20 weeks*. You might want to take one section per day and really focus on that aspect of your idea or answer quick-fire style and fast track your progress.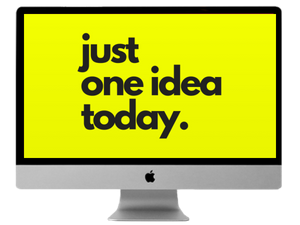 It's up to you.
It's your idea.
Your process.
These are questions designed to bring you clarity.
They're designed to cut to the core of helping you get what you need, quickly and easily so you can crack on with your idea and get it out there.
This is your time to create something unique.
Stand out.
Trust your process.
And accept a little help from Just One Idea Today to see things differently, create the best version of your idea possible and be amongst great company in the process.
This is your time.
However busy you are if you have a burning desire to make your idea happen Just One Idea Today will help you clarify, strengthen and perfect your idea so its ready to be unleashed on the world.
You want to gain real ground, without the heavy lifting. Without fear of looking silly, struggle or burnout.
This is for you if you want all those things.
You get:
• Purposeful, powerful questions. Every single week. And a solid framework.
• Personal email support, for when you need help with the tricky questions.
• Feedback and clarity.
• Accountability.
• A private, supportive Facebook group, who can act as a sounding board and help nurture your idea when you need it.
So you can:
• Make your idea stronger, week by week
• Build on your progress
• Know where you stand in your marketplace
• Make your idea stand out from your competitors, in bright lights, with confidence.
There's no time to waste!

* You can choose to have your questions sent to you either every weekday for 4 weeks (i.e. 20 days) or every week (i.e. 20 weeks).

The speed you take this programme at is entirely up to you - you will have my support at every step of the way.